X is for Zebra
Residency Information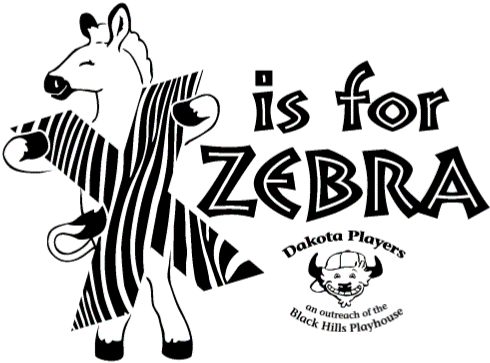 PRODUCTION TEAM
Playwright – William Ryder
Composer – Christian Erickson
Lyricist – Marion Neidringhous
Costume Design– Jennifer Shouse-Klassen
Set Design- Molly Wilson/Becky Moser
Graphic Design: Kari Powell
Out on the African Savannah, there are some things everyone just knows are true. Meerkats are social, lions have pride, hippos are big and zebras have stripes. All zebras except Xena that is! Xena was born without stripes and to make matters worse, she spells her name with an "X". It's just too different! It's just not right! What is a zebra without its stripes?
Xena struggles with who she really is as she listens to others tell her whom she is supposed to be. How can you be comfortable with your place in the world if you don't know who you are? As she meets character after character...and boy do we mean characters!...she sees that everyone has unique attributes and captivating quirks!
Life on the Savannah is an exotic, electric dream, but the Savannah of our dreams is not always peaches and cream. There are tough issues of self-image, friendships, and peer pressure. In the end, the truth is that "you just gotta be you" and...it never ever hurts to have a sense of humor about life!
Show length: approximately 45 minutes
Residency Information
Posters
Add your event information to the publicity poster; make copies; distribute in various places such as schools, grocery stores, libraries, etc. Some presenters have students color the black and white posters before distributing them to help build the excitement!
Certificate
If you want to show the kids your appreciation for participating in the event, this Certificate is perfect! Personalize with participants names and print them out or use the PDF file and write the names in. Many presenters give them out at the time of performance, pep rallies or award ceremonies.
​​
Logos
For use in newspapers or other printed materials
​