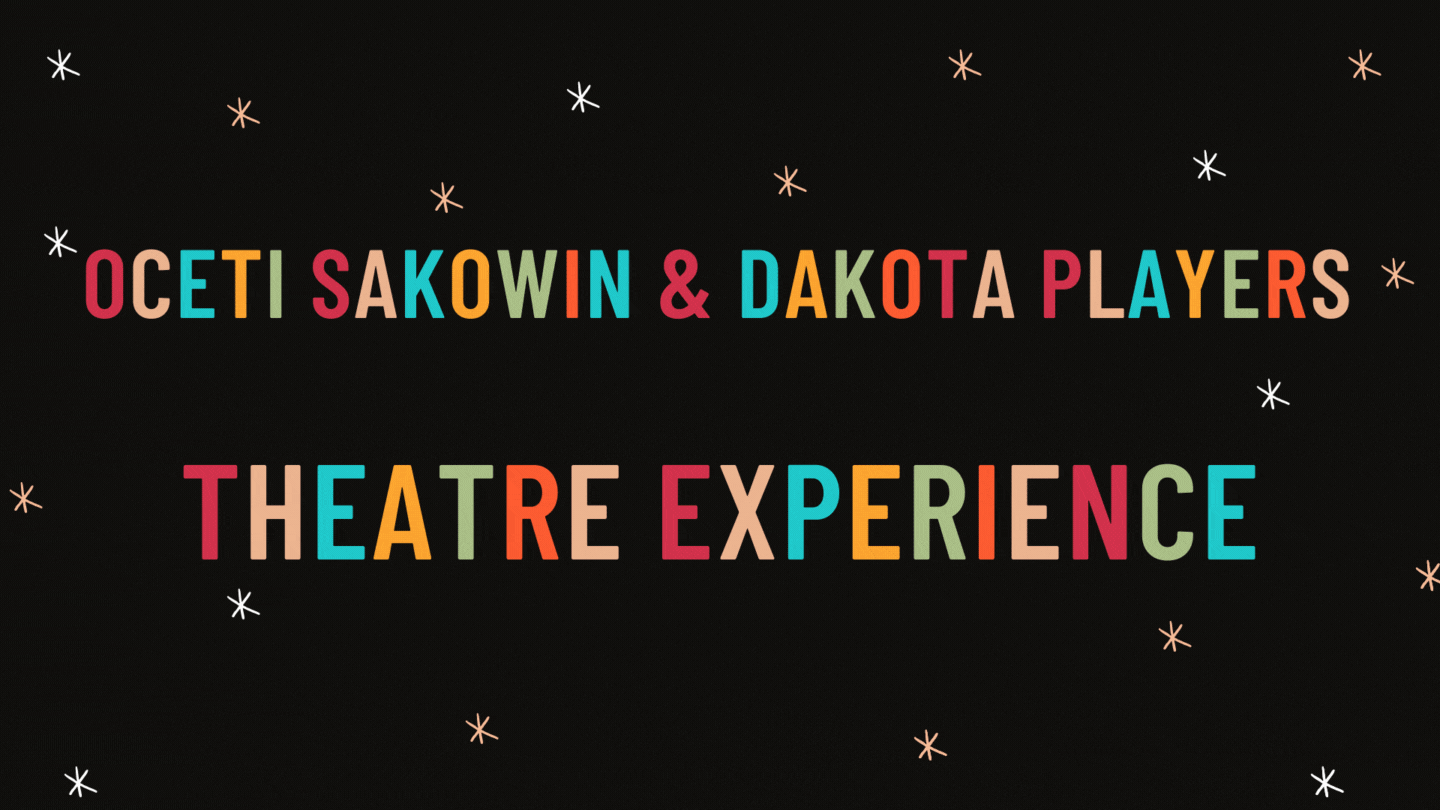 We're excited you're here!
Welcome! The Black Hills Playhouse is honored to have been invited to create a pilot project which integrates theatre and Oceti Sakowin Essential Understandings (OSEU) curriculum to strengthen communities. We have been guided by existing OSEU lessons and materials created by a number of people and organizations such as the Technology in Education (TIE) WoLakota Project, MUVE, the Kennedy Center, the Lakota Language Consortium, the South Dakota Arts Council, and by Starr Chief Eagle (Sicangu Lakota). We are grateful for conversations and assistance from Whitnee Pearce, Director of Diversity, Equity, & Federal Programs - Rapid City Area Schools, Sharla Steever of TIE, and Chris & Deborah Bordeaux.
​
The goal of this project is to engage project-based learning so that educators from varied backgrounds can introduce their students to the creativity and joy of the arts and enhance exposure to Oceti Sakowin Essential Understandings. Each session will introduce your students to a wide range of arts information as well as Oceti Sakowin Essential Understandings. Students have the opportunity to explore theatre from many different angles including storytelling, movement, and visual art with items they receive in an individual supply kit.
​
For this sampling, you will be able to review the first session. All four sessions have the same educational structure based on different central themes. It would be our suggestion to complete one session and its activities over the course of a week. The four (4) lessons per session include: one (1) warmup video, and three (3) activity videos designed to address different elements of theatre. Each activity includes a corresponding lesson outline, activity worksheet, and student reflection prompt. If interested, you can view the lesson outlines for all four sessions in the link below our pictures.
​
Know that there is no right or wrong way to use this curriculum. We trust that teachers will adapt the materials to meet the needs of their classrooms in ways they think best for their students. We hope you enjoy this Theatre Experience and we would appreciate your input about what works, what doesn't, or any suggestions you might have!
Please feel free to contact Deb or Kat with questions at edu@blackhillsplayhouse.com or (605) 255-4910 Ext. 2. Thank you for all you do as educators for the youth of South Dakota!
​
​
​
​
​
​
​
SESSION 1- Telling Your Story
Video 1.0 - Session 1 Introduction and Warmups
Activity 1.1 - Telling Your Story Through Words
​
Activity 1.2 - Telling Your Story Through Movement
​
Activity 1.3 - Telling Your Story Through Pictures
​
SESSION 2 - The Meadowlarks pt. 1
SESSION 3 - The Meadowlarks pt. 2
SESSION 4 - The Way of Life