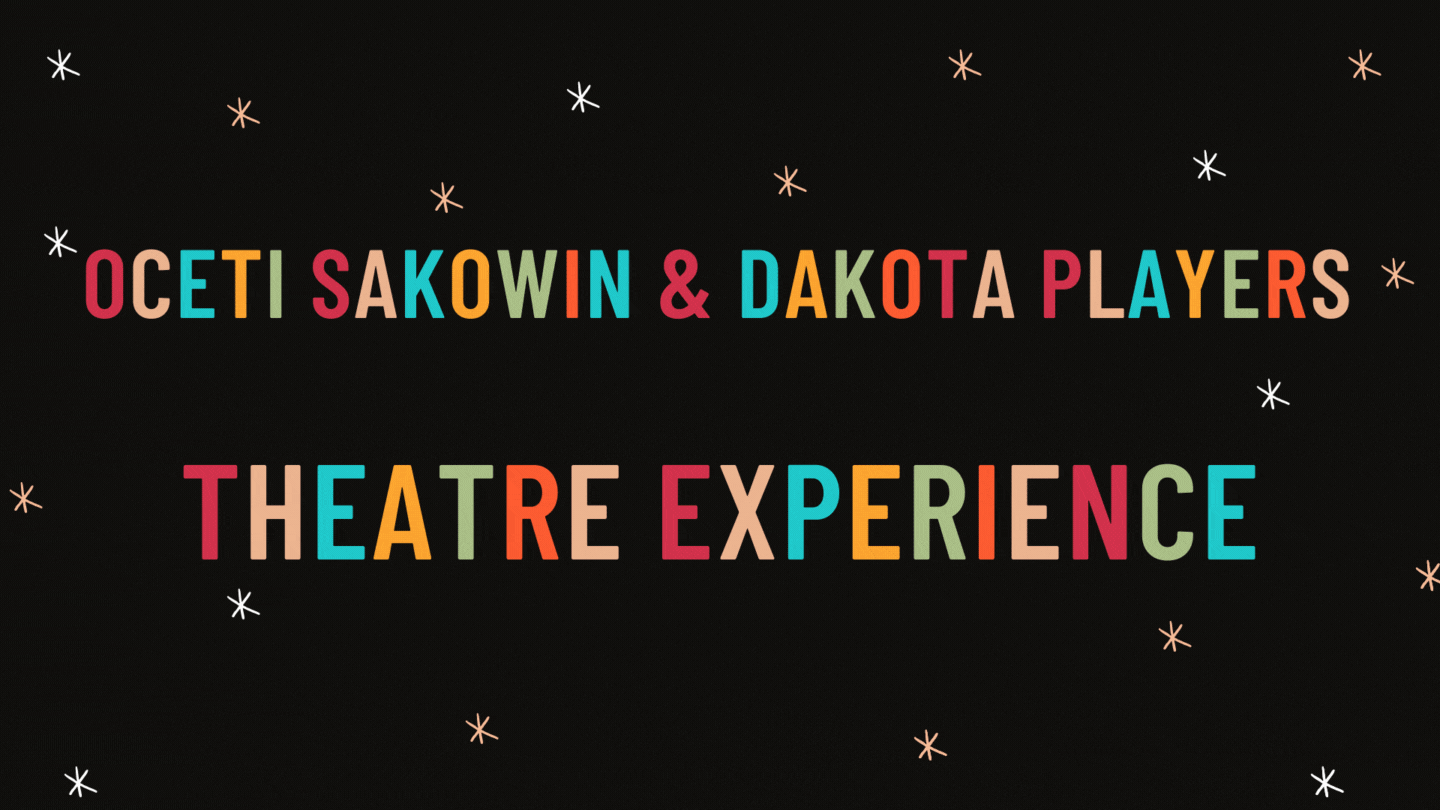 We're excited you're here!
Welcome! The Black Hills Playhouse is honored to have been invited to create a pilot project which integrates theatre and Oceti Sakowin Essential Understandings (OSEU) curriculum to strengthen communities. We have been guided by existing OSEU lessons and materials created by a number of people and organizations such as the Technology in Education (TIE) WoLakota Project, MUVE, the Kennedy Center, the Lakota Language Consortium, the South Dakota Arts Council, and by Starr Chief Eagle (Sicangu Lakota). We are grateful for conversations and assistance from Whitnee Thorpe and Sharla Steever of Black Hills Special Services, and educators Chris & Deborah Bordeaux.
​
Our goals are to engage schools and communities in project-based learning so that educators from varied backgrounds can introduce their students to the creativity and joy of the arts and enhance exposure to Oceti Sakowin Essential Understandings. Each session will introduce your students to a wide range of arts information as well as Oceti Sakowin Essential Understandings. Students have the opportunity to explore theatre from many different angles including storytelling, movement, and visual art with items they receive in an individual supply kit.
​
For your convenience and quick reference, we've compiled a list of comprehensive PDFs for the entire project below in red. Further down, you'll find the session videos broken down by activity. We trust that teachers will adapt the materials to meet the needs of their classrooms in ways they think best for their students.
​
PLEASE NOTE:
The Oceti Sakowin & Dakota Players Theatre Experience curriculum contains up to four (4) sessions, each with three (3) activities designed to address a different element of theatre.
This curriculum was designed to be used in a classroom setting through in-person and/or video-guided workshops. Some options are 1 session per week, or approximately 1 hour per activity each day. If the curriculum is the focus of the entire day, then it's possible to complete one session per day. In-person workshops are designed specifically for the community we're visiting.
There is not a "right" or "wrong" way to do these activities. The goals are to:

Inspire creativity

Promote Oceti Sakowin Essential Understandings education, and

Incorporate arts education & appreciation.
Feel free to supplement these sessions with quizzes, lessons, and videos of your own to help participants better understand the content and/or meet learning objectives as required by your curriculum or district standards.
We have gathered supplemental examples into a Pinterest board for you to incorporate as you see fit. Click Oceti Sakowin & Dakota Players, or follow the link on our website.
If a session or activity doesn't work for your students, feel free to modify or skip it.
Don't hesitate to reach out if you have any questions! edu@blackhillsplayhouse.com or to Kat or Deb at (605) 255-4910 ext. 2 We can help you tailor the materials to the way you can best use the in your classroom or community center and prepare a quote for costs!
Thank you for all you do as educators for our children and for bringing us to your community. We hope you have fun with the Oceti Sakowin & Dakota Players Theatre Experience!
Deb Workman


Director of Education
deb@blackhillsplayhouse.com
Katryna Preston Lowery


Associate Director of Education
katryna@blackhillsplayhouse.com
SESSION 1- Telling Your Story
Video 1.0 - Session 1 Introduction and Warmups
Activity 1.1
Telling Your Story Through Words
Activity 1.2
Telling Your Story Through Movement
Activity 1.3
Telling Your Story Through Pictures
​
SESSION 2 - The Meadowlarks pt. 1
SESSION 3 - The Meadowlarks pt. 2
SESSION 4 - The Way of Life